Every product has its own function and identity. The physical design of a product plays a large role in giving a product these properties. Take functionality for example – the mechanical housing can ensure that a product is water resistant or that safety regulations are met. And of course the looks of a product can be critical. A customer is more likely to have confidence in a professional looking product.
The first contact between a customer and a product is physical – through the housing. The housing is the link between the user and the electronic system. That's why ergonomics and user interface design are central to product design. If the user interface isn't functioning correctly a user will generally not be satisfied with the product.
It should be apparent that the enclosure can make or break a product.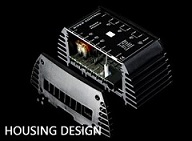 LieMo Electronics have designed their own enclosures for a range of products. The panel-housing and aluminium profile to the left for example, are LieMo Electronics own designs and are used in a range of related products. Through styling, a family of related LieMo products can easily be identified. Interchangeable, ergonomically designed faces allow for a consistent look and feel while providing the user important operational information.
Our enclosures are one of the factors in ensuring the success of our products.