Dual Linkable
– Linkable up to 10 devices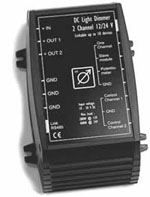 – Voltage stabilization @ 12 or 24 VDC
– Controlled by Potmeter or Pushbuttons
– 2 channels (two dimmers in one)
– High power, 200W @ 12V and 400W @ 24V
– Two groups can be controlled separately
– Energy efficiency , 50% = 50% current use
– High efficiency by use of FET -techniques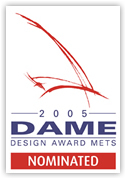 Introduction the 2 group light dimmer
The 2 group light dimmer is unique in its kind. It offers de opportunity to control the amount of light of one light group or two separate light groups. By pushbuttons of potentiometer. It can handle normal and halogen light bulbs. The selection to use one or two groups is done by a wire bridge. A dimmer with a capacity of 200W @ 12 V and 400W @ 24V is selected when the two groups are combined into one with a wire connection. Each output can handle a load of 100W @ 12V and 200W @ 24V. Up to 10 modules can be connected.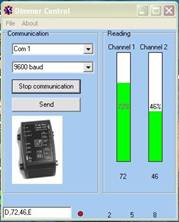 2 group linkable screen
The dimmer is internally protected by two fuses. To replace them, one plastic cover must be removed.
When the battery is charged the voltage can rise to 14.4V or 28.8V. This voltage shortens the live of the light bulbs. The internal voltage regulation increases the live of the light bulbs. It takes care that de (effective) voltage doesn't rise higher than 12V or 24V. Halogen light bulbs have a high inrush current. This is why each group has a softstart. The softstart also lengthens the live of the light bulbs.
Technical specifications:
– Max. load: 200W @ 12V en 400W @ 24V
– Per group: 100W @ 12V en 200W @ 24V
– Input voltage: 10 tot 30 V DC
– Number of groups: 2
– Switches per group: unlimited
– Switch contact type: make contact – pulse (NO)
– Potmeters per group: 1
– Measurements (l x b x h): 146 x 67 x 97 mm