Trailer Converter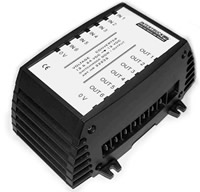 The Trailer Converter allows the 12 volt lighting installation on a trailer to be powered by a vehicle irrespective of whether the vehicles electrics operate at 12 or 24 volts.
Features:
Supports 12 and 24V supply systems
6 x DC/DC voltage conversion
The following connection points are provided on the voltage transformer:
1 IN / OUT Left lighting (Black 30 W)
2 IN / OUT Left indicator (Yellow 21 W)
3 IN / OUT Braking lights (Red 40 W)
4 IN / OUT Right lighting (Brown 30 W)
5 IN / OUT Right indicator (Green 21 W)
6 IN / OUT Rear fog-light (Blue 21 W)
0V Ground connection (White)
Mounting instructions
1) To prevent short-circuit, disconnect the negative battery terminal prior to mounting.
2) Mount the voltage converter using the provided self-tapping screws on an appropriate location. For undisturbed and reliable functioning, the converters should be mounted on a well ventilated spot. Connect the cabling leading to the trailer to the 12 V output. Then connect the cabling of the 24 V light installation system of the vehicle to the 24 V input of the transformer.
3) Connect the incoming and outgoing ground of the voltage transformer to a common grounding point (chassis) near the unit.
Colour Coding
Colour coding of the connecting cables has now been laid down in international standards and should be applied as follows:
7 polar / 24 Volt 7 polar / 12 Volt 13 polar / 12 Volt Function
2 black 7 black 7 Left lighting
3 yellow 1 yellow 1 Left indicator
4 red 6 red 6 Braking lights
6 brown 5 brown 5 Right lighting
5 green 4 green 4 Right indicator
–2 Rear fog-light
1 white 3 white 3* Ground connection (*contact 1-8)
Other connections:
– 8 Reversing light
– 9 Continuous plus
– 10 Charging current for additional . . accumulator
– 2 blue 11 Free contact
– 12 Free contact
– 13 * Ground convection (*contact 9 t/m 12)
– 7 blue Brake control for trailers