---
Nieuws

12Trace
Volg uw object met 12Trace

Vind, volg en bewaakt uw kostbare objecten snel en voordelig met 12Trace. Plaats in uw object eenvoudig een GeoLocker track en trace volgsysteem. Het volgsysteem is draadloos en dus zeer eenvoudig te installeren. Wilt u weten waar uw waardevolle objecten zijn? Plaats dan een draadloos GPS volgsysteem van 12Trace, de GeoLocker genaamd, in uw voertuig of mobiel object en u weet voortaan precies waar het zich bevindt. Bij de aanschaf kunt u een keuze maken uit de GeoLocker-Basic en GeoLocker-Secure. Met de GeoLocker-Basic kunt u precies zien waar uw object zich bevindt. U kunt met behulp van een timer zelf instellen hoe vaak u wilt weten waar uw object zich bevindt. \r\n\r\nMet de GeoLocker-Secure kunt u hetzelfde als bij de GeoLocker-Basic en nog veel meer. Zo heeft u hier de mogelijkheid om een virtuele grens om uw object te trekken dit noemen wij Geofence. Wanneer uw object zich buiten deze grens bevindt krijgt u hier automatisch een alarmmelding van per sms en/of e-mail. Daarnaast bevat de GeoLocker bij dit systeem Geomotion. Hiermee kunt u, zodra uw object in beweging komt, de afgelegde route van uw object op uw persoonlijke pagina op www.12trace.nl te bekijken.
---
2-Wire RF Dimmer
The dimmer can be branched in the same way as a switch. It is not necessary to replace the existing installation. The dimmer is suitable for incandescent lamps and halogen lamps with an electric potential of 12 or 24V. The built in soft-start feature provides a longer lamp life.
Once the dimmer is turned off the dimmer only consumes 1 mA, which is significantly lower than the self-discharge of the onboard battery. The dimmer can be controlled by the switch as well as by the remote control. The light is switched on and off by briefly pressing the switch. The light intensity can be adjusted by pressing the switch for a longer period of time. Once the dimmer is turned off the last established light intensity is retained.
Remote control using RF technology
High power 60W@12V / 120W@24V
Auto input voltage detection 12 or 24V
Power supply limit 8 – 30 V DC
No extra wires to install
Controlled by microprocessor
Built in soft-start feature for longer bulb life
Built in thermal fuse 10 A (no self-reset)
Mobiledimmer Remote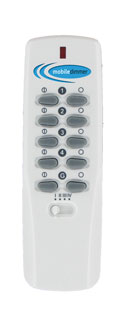 This RF remote control enables you to control up to 16 dimmers.
By means of a straightforward batch control option all dimmers
can be switched on or off at once. After switching the lights off the last settings are retained. When switched back on, the lights are restored to their last state. Through a simple key control you can add up to 16 dimmers to your remote.
16 channels per remote
adjustable code system (256 codes)
transmitter frequency : 433.92 MHz
transmission range : 30 metres (102 ft)
Includes a 3 Volt lithium battery (type CR2032)
---
CAN BUS
Currently there is an ongoing research within our R&D department into the CAN-bus technology and its applications within the maritime sector. Examples of such products include:
-tank level senders
-motor management system readouts
-various types of display and control products
Future areas of interest also include compliance with the NMEA2000 standard.
ULTRASONIC DISTANCE MEASUREMENT
Research is currently being done to determine the feasibility of using ultrasonic distance measurement techniques in combination with a smart software filtering solution for fluid level sensing applications. By adding a CAN-bus interface to such a sensor, it becomes possible to show several fluid levels on a display and to initiate the appropriate action when one or more levels become critically low/high.
---
OUDER